Asian American and Pacific Islander Heritage Month

Please keep reading for events and announcements related to diversity, equity, and inclusion. Don't forget to send me items to include in future newsletters: DEI Newsletter Submissions
Announcements
The Carolina Collaborative for Resilience is embarking on a planning year to develop non-clinical support to address identity-based traumas through the use of Resilience Coaches representing units from across UNC. The Carolina Collaborative for Resilience is charged with providing timely, holistic, student-centered, culturally-responsive, intersectional, and strengths-based support for students who are navigating challenges as a result of identity-based trauma under the premise that students are less likely to "ask for help" within formal systems and instead turn to faculty and staff with whom they share similar backgrounds or life experiences for support.
Registration is open: National Conference on Race and Ethnicity (NCORE) – June 7th – 11th
Early bird deadline is April 30th! NCORE is the most comprehensive national forum on issues of race and ethnicity in American higher education
Click here for more information.
STUDENTS: John M. Belk Impact Fellowship – Accepting Applications
We are now accepting students' applications for our second cohort of future North Carolina Educational Justice Leaders. The John M. Belk Impact Fellowship was built on the belief that talent is universal, but opportunity is not. The John M. Belk Endowment and The Hunt Institute have teamed up with several nonprofit organizations to give current college students an opportunity to learn about the inner workings of organizations playing critical roles across North Carolina's education landscape. Click here for the Fellowship webpage which includes the online application: John M. Belk Impact Fellowship · The Hunt Institute (hunt-institute.org).
Academics for Black Survival and Wellness (A4BL) is a personal and professional development initiative for Non-Black academics to honor the toll of racial trauma on Black people, resist anti-Blackness and white supremacy, and facilitate accountability and collective action. A4BL also is a space for healing and wellness for Black people.
On June 1st, the anti-racism training content from last year will be available on their website. The Black wellness content is accessible now. From Juneteenth to July 3rd, we will have new Black wellness and anti-racism training content, events, and workshops that will be synchronous and asynchronous.
Call for workshops and event proposals – Due May 31st. More information and application form.
Upcoming Events
FOR MINORITIZED MASTERS AND DOCTORAL STUDENTS: VCU Holmes Scholar Professional Developmental Series, May 17th
The VCU Holmes Scholars will be holding their sixth professional development series event for FY20-21 on Meta-analysis: Introduction and tips. There is no cost for this event. Register here.
Information on the FY20-21 VCU Holmes Scholar PD Series can be found here.
Care in the Midst of Chaos: Providing Reasonable Flexibility – May 25th, 4-5:30 pm
Hosted by the University Office for Diversity and Inclusion, in partnership with the Center for Faculty Excellence and Student Affairs, this event provides space for education, coping, healing and community resilience around issues related to identity-based and racial trauma. Register here.
Antiracist School Counseling Teach-In – Friday, June 25th, 10am – 5pm
"A Teach-In is an extended meeting usually held on a college campus for lectures, debates, and discussions to raise awareness of or express a position on a social or political issue." Hosted by American University, School of Education, Dr. Bettina Love will provide the opening lecture. Come and enjoy a day of thought-provoking panels, talks, and opportunities to learn from other participants. This teach-in is free and open to the public. For registration information, email Dana Griffin at dcgriffi@email.unc.edu.
Critical Race Theory Summer Institute: June 3rd – 4th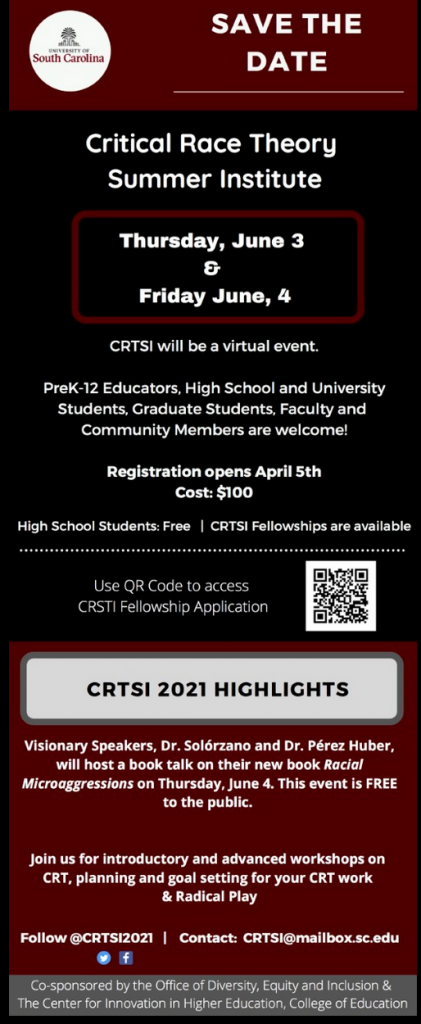 American University Summer Institute on Education Equity and Justice (SIEEJ) – June 28-30, 2021
Leveling the Playing Field: Intersecting Race and Disabilities
Keynote Speakers include Drs. Donna Ford, Bonnie St. John, Gloria Ladson-Billings and Shawn A Robinson.
Conference Hosts: Drs. Cheryl Holcomb-McCoy and Antonio Ellis
Sessions are designed to change both mindsets and practices. The overall goal of SIEEJ is to build a community of practice singularly focused on the strengths, challenges, and opportunities in the lives of young people of color and the communities in which they live. Please visit the conference website for more information on session speakers, moderators, and full descriptions. All sessions will be closed captioned. Full recordings of the sessions will be made available to registered attendees. Participants will be provided links to livestream all sessions in advance. We encourage you to engage with the sessions by using the hashtag #SIEEJthemoment.
Register: Bit.ly/ausieej21; Early Bird registration – $25; University Students -$10DEI Resources
From the School of Education's DEI Team
DEI Resources
This YouTube channel has over 90 DEI webinars primarily led by leaders of color with panelists from a variety of backgrounds.
Resources for Addressing Racial Violence
The American School Counselor Association (ASCA) has cultivated a number of helpful resources for addressing racial violence:
Individual Meetings
If you would like to meet with me individually, please book an appointment.
Happy Asian American and Pacific Islander Heritage Month
May is AAPI Heritage Month – a time where we pay tribute to the number of ways in which they have enriched our history. For resources and more information, please click here: https://asianpacificheritage.gov/.
It is vitally important that we not only recognize the contributions of our Asian/Pacific American staff, students, and faculty in our school, but that we also acknowledge that this group continues to face overt and covert acts of racism, both within our own Carolina community and across the nation. I say this because all too often, we give voice to recognizing the contributions of oppressed populations without acknowledging how we contribute to their oppression.
May is also Mental Health Awareness month. As stated on the National Alliance on Mental Illness website (https://www.nami.org/Get-Involved/Awareness-Events/Mental-Health-Awareness-Month): "Now more than ever, we need to find ways to stay connected with our community. No one should feel alone or without the information, support and help they need." Please extend grace, kindness, patience, and forgiveness toward others. So many of us are carrying emotional burdens – like fear of being attacked over one's race, as we see happening in the AAPI community, or grief over losing a loved one, or fear and anxiety over the new CDC guidelines regarding COVID. And while we are all expected to carry on and do our jobs in spite of the turmoil all around us, please keep in mind that emotional trauma is real.
And finally, this is the last newsletter until August 2021. Thank you for your continued support of me in this role, and I look forward to seeing you in the DEI chats, DEI workshops and DEI trainings in the Fall, in person, masked up, and 6ft apart. ☺
Have a great summer. Take time to rest, refresh and restore!