Earth Day 2021: Restore our Earth

Please keep reading for events and announcements related to diversity, equity, and inclusion. Don't forget to send me items to include in future newsletters: DEI Newsletter Submissions
Announcements
PLEASE COMPLETE BY FRIDAY, APRIL 30TH!!! Managing Bias Training.
You should have received a personal email invitation directly from Everfi. This course is designed to address the experience of faculty and staff in the workplace. It uses interactive exercises and realistic scenarios to define explicit and implicit bias, identify multiple types of bias, and explain how biases can lead to unfair treatment in the workplace. In addition to providing a foundational understanding of bias, the course explores how bias occurs in everyday workplace decisions and attitudes and explains how the harmful effects of bias can impact the individual, the organization, and society-at-large.
UODI Website Redesign Survey – Complete by Friday, April 23rd
The University Office of Diversity and Inclusion (UODI) is redesigning its website to provide our stakeholders with engaging, interactive and easily navigable content about diversity, equity and inclusion efforts, programs and initiatives across Carolina. As we redesign the site, we invite you to participate in a 5-minute survey to help us evaluate the proposed sitemap and navigation. We welcome your participation even if you are not a regular visitor to the UODI website. Our goal is to test the usability of the sitemap and not your knowledge of the site's content.
Click here to take the survey: https://ows.io/tj/642y5a32.
Instructors Teaching Undergraduate Courses in 2021-22
The IAAR invites faculty teaching undergraduate courses to apply to have their courses included in IAAR-SLATE's shared learning component in which courses designated as part of IAAR-SLATE will include activities in common that reflect the program's topical focus. Review of applications will begin the week of April 19, 2021 and continue until the available spaces have been filled. Questions may be addressed to Anna Agbe-Davies, Ph.D., Associate Professor of Anthropology, and Faculty Director of Teaching for IAAR-SLATE at agbe-davies@unc.edu.
Click here for more information and application: https://unc.az1.qualtrics.com/jfe/form/SV_8CaJV1TmakLJtJA
FOR AGES 21-26 – Avodah Jewish Service Corps
Applications are now open for the Avodah Jewish Service Corps, a year long program for individuals ages 21-26 to build a lifetime of leadership skills, an active Jewish community, a powerful professional network, and a more just America.
Spend a year serving for justice at a leading anti-poverty organization while living and learning at the crossroads of activism and Jewish life. As a member of the Jewish Services Corps, you will:
Build real-world expertise with critical, hands-on work experience. You'll be placed with one of Avodah's partner organizations in Chicago, New Orleans, New York, Washington, DC, or our newest city, San Diego. Through on-the-ground direct service work, you'll contribute meaningfully to our partners' work on crucial justice issues such as immigration, food insecurity, education, healthcare, criminal justice, and much more.
Develop activist chops and Jewish social justice insights. Avodah's trusted, innovative curriculum examines the causes and effects of domestic poverty, develops practical skills, and looks at justice work through a Jewish lens. Programming will deepen, contextualize, and nourish your day-to-day work while preparing you to stay in social and economic justice movements for the long haul.
Live and learn in the dynamic Avodah community. Home-cooked meals, late night conversations, and holiday celebrations make living communally in the bayit (house) memorable and meaningful. We have also introduced our first Jews of Color Bayit in NYC – learn more at https://avodah.net/who-we-are/jocbayit/.
Access activism, professional development, and Jewish opportunities for life. Over 1,200 social justice leaders across the country serve as active, engaged members of our alumni community. They'll help you with everything from apartment hunts to job references to holiday meals invites.
In addition to a year of professional and personal growth, Corps Members receive a monthly living stipend, health insurance, a travel allowance, and subsidized housing. The program will run August 2021- August 2022.
Avodah is committed to building a Service Corps that inclusively represents our diverse community. Sephardi Jews, Mizrahi Jews, Jews of Color, people of color, women, people with disabilities, immigrants, LGBT2QIA people, and people who come from poor or working class backgrounds are strongly encouraged to apply!
Are you the next Jewish Corps Member? Visit our website at avodah.net/serve, email apply@avodah.net to learn more, or nominate a friend. We are currently accepting applications on a rolling basis until all spots are filled – apply ASAP!
STUDENTS: John M. Belk Impact Fellowship – Accepting Applications
We are now accepting students' applications for our second cohort of future North Carolina Educational Justice Leaders. The John M. Belk Impact Fellowship was built on the belief that talent is universal, but opportunity is not. The John M. Belk Endowment and The Hunt Institute have teamed up with several nonprofit organizations to give current college students an opportunity to learn about the inner workings of organizations playing critical roles across North Carolina's education landscape. Click here for the Fellowship webpage which includes the online application: John M. Belk Impact Fellowship · The Hunt Institute (hunt-institute.org).
STUDENTS: Freedom School Summer Internship -Servant Leader Intern (SLI)
Servant Leader Intern Position Description
The Servant Leader Intern (SLI) serves as a classroom teacher in a Freedom School literacy based summer enrichment program. The SLI helps to serve breakfast and lunch, leads a literacy rich curriculum during the morning, and leads/chaperones activities or field trips in the afternoon. The Servant Leader Intern should be experienced in working with groups of children, responsible, energetic, able to think on his/her feet, a good leader and a strong role model.
The Freedom School Partners are looking for college students to serve as paid, summer interns for our Freedom School summer program in Charlotte, NC. We hire college students and recent college graduates from all majors and classifications. During the summer, children living in low-income communities are susceptible to falling two to three months behind in reading due to unengaged and unsupervised time. Our goal at Freedom School Partners is to help students grades K-8 gain and maintain reading ability through an engaging, and exciting six-week summer program led by college-aged interns. We not only work to transform children's lives, but we work to transform college students into advocates for children and help them develop skills that expand their resume and prepare them for future success. Please check out our website to learn more about the work of Freedom School Partners.
Please check out this video from our Careers webpage to get a good glimpse into what Freedom School looks like for our Servant Leader Interns during the summer and also two video links below to learn more. If you have any questions or comments please feel free to reach out to us at recruit@freedomschoolpartners.org. Additional videos to learn more: Freedom School Partners: Our Story , Freedom School Partners: Our Interns.
Upcoming Events
UNC Program for Public Discourse – Debating the Minimum Wage – April 19th, 5pm
The UNC Program for Public Discourse hosts its first-ever debate and the inaugural event in our Debating Public Policy Series: Debating the Minimum Wage. Join us as two UNC professors argue opposing views on raising the federal minimum wage to $15. Dr. Lucca Flabbi of the UNC Department of Economics argues in favor. Dr. Paige Ouimet of UNC Kenan-Flagler Business School argues against. The debate is moderated by Prof. Kevin Marinelli, executive director of the UNC Program for Public Discourse. Click here to register.
Early Childhood Initiative Series featuring Christine McWayne, Tufts University, April 20th, noon – 1pm
The Center for child and Family Policy invites you to the early childhood initiative series: Bridging Divides and Making Visible the Invisible: Connecting Parents and Teachers through Cultural Inclusion. Implicit within mainstream notions of family-school partnership is the assumption that school-based engagement is needed for parents to provide effective support for their children's learning and development. However, for many low-income, ethnic minoritized and immigrant families, sociocultural and language differences between families and educators create significant chasms in understanding between home and school settings. Often, educators do not have access to the potentially powerful information about home-based practices and routines, families' experiential knowledge, and other aspects of children's out-of-school lives that could form the basis of engaging and meaningful early childhood programming. By framing family-school connections as emphasizing information flowing from the home to the school, we can make shifts in our assumptions about and expectations of families, while building a culturally inclusive and welcoming environment for all families in early childhood programs.
Click here to register: Zoom Registration
Earth Days: How Environmental Justice and Equity Can Help Solve the Climate Crisis
Part 1: April 21, 4pm – Register Here
Part 2: April 22, 4pm – Register Here
"I Shall Tell The Truth" – A FREE two part webinar series on the life of Moses Roper – April 21st and April 28th, 5-6:30pm
Moses Roper was born into slavery in Caswell County, North Carolina in 1815. After 19 attempts to escape, he was finally successful in his early twenties, and went on to become a best-selling author, orator, and international anti-slavery crusader. Yet, today, few know his name or the incredible story of his resistance to slavery. Join the Crafting Freedom Institute,, in collaboration with Carolina K-12, for a FREE two-part webinar series in which we elevate the story of this remarkable North Carolina-born freedom fighter out of obscurity. Click here to register for one or both sessions.
Learning with Dr. Sonja Cherry Paul – April 22nd, 5 – 6:30pm via Zoom
Please join Dr. Lisa Vahey as she hosts Dr. Sonja Cherry Paul (from Teachers College, Columbia University). It's free! Dr. Cherry Paul is an amazing writer of professional text and articles and worked with Jason Reynolds & Ibram Kendi on Stamped for KIDS, coming out NEXT MONTH!). This will be an interactive space, so please be ready to participate, think, stretch and connect.
Click here for more information and to register: http://bit.ly/SCPonApril22
Life After the Storm: Building Resilience in North Carolina – April 2nd, 5:30 – 6:30pm
How do we address extreme environmental events from all perspectives to build resilience in North Carolina? Join Director of the UNC Institute for the Environment Mike Piehler '97 (Ph.D.) for a conversation with Carolina experts Elizabeth Frankenberg '86, Diamond Holloman '18 (M.S.) and Greg Characklis. Learn about the impact on health and well-being, economic hardships and environmental harm that communities face from extreme events and changing climate, and how UNC is building resilience in North Carolina and beyond. Click here to register: https://tarheelstogether.unc.edu/april-22-live-building-resilience-in-north-carolina/?utm_source=tarheelstogether&utm_medium=email&utm_campaign=20210415th&utm_content=register_environment
Headspace, Heart Space: Straight Talk about Navigating Race, Place and Complex Space – April 28th, 1pm.
Please join UNC-CH Campus Safety Commission for this courageous conversation around navigating race, featuring Dr. Ty-Ron Douglas (https://drtydouglas.com/), University of California, Berkeley. Register at https://go.unc.edu/CSC
Decolonizing Sociology – Dr. Ali Meghji, University of Cambridge, April 29th at 1:15pm
In this presentation, Ali Meghji will talk through some of the key themes from his recent book, Decolonizing Sociology. He will first situate sociology in its colonial development, detailing its emergence in the epistemic core of European empires. After critiquing how sociology continues to reproduce the colonial episteme, he will then turn to what a decolonial challenge to sociology would look like. In doing so, he will put forward a relational sociology which—as the Zapatistas put—seeks to practice an ethic of 'walking while asking questions.' He will finish with some practical thinking points for instigating a decolonial turn in sociology.
Click here to register: Zoom link: https://duke.zoom.us/j/97589514755?pwd=SHJxRnJpVnA2UnlIWU5QOXpyNWxvQT09
Meeting ID: 975 8951 4755 Password: stuarthall
Carolina Consortium on Human Development Speaker Series Spring 2021: "Culture & Developmental Science: Considering Context, Culture, and Intersectional Approaches"
The proseminar meetings will be on Monday afternoons from 2:00 – 3:15 PM. All talks will be held online via Zoom (https://fpgcdi.zoom.us/j/91078842280). Please click here for the spring schedule of speakers and topics: https://cchd.web.unc.edu/consortium/.
Critical Race Theory Summer Institute: June 3rd – 4th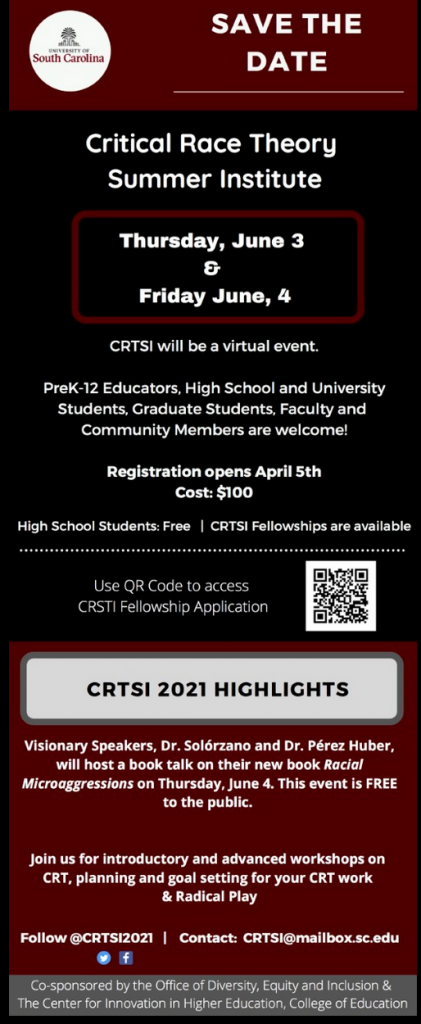 American University Summer Institute on Education Equity and Justice (SIEEJ) – June 28-30, 2021
Leveling the Playing Field: Intersecting Race and Disabilities
Keynote Speakers include Drs. Donna Ford, Bonnie St. John, Gloria Ladson-Billings and Shawn A Robinson.
Conference Hosts: Drs. Cheryl Holcomb-McCoy and Antonio Ellis
Sessions are designed to change both mindsets and practices. The overall goal of SIEEJ is to build a community of practice singularly focused on the strengths, challenges, and opportunities in the lives of young people of color and the communities in which they live. Please visit the conference website for more information on session speakers, moderators, and full descriptions. All sessions will be closed captioned. Full recordings of the sessions will be made available to registered attendees. Participants will be provided links to livestream all sessions in advance. We encourage you to engage with the sessions by using the hashtag #SIEEJthemoment.
Register: Bit.ly/ausieej21; Early Bird registration – $25; University Students -$10DEI Resources
From the School of Education's DEI Team
DEI Resources
From PhD student Andrew Garbisch: North Carolina Asian Americans speak out in solidarity
On March 16th, 2021, six Asian American women were killed in Atlanta. Many of the Asian Americans organized through the Campus Y for a vigil. Many of us are in a headspace much less to seek social justice (that would indicate we have the privilege to attain that) and more of survival. It might sound ludicrous, but that is how much of our community feels right now. I wanted to pass along this podcast to illustrate these ideas that come from Asian Americans you call your colleagues, students, and hopefully friends. Doing the work that all of you do, many times we ask ourselves how we can help. I hope this will give us food for thought to how we all are relational to, care for, and interact with our Asian American brothers and sisters.
Please listen to this powerful podcast: https://carolinaconnection.org/2021/04/10/carolinacast-north-carolina-asian-americans-speak-out-in-solidarity
This YouTube channel has over 90 DEI webinars primarily led by leaders of color with panelists from a variety of backgrounds. 
DEI Chats – Fridays at 3p.m.
Click here to attend: https://zoom.us/j/98090153143
As we prepare for the Chauvin trial verdict, and continue to face acts of violence in our society, our DEI chat this Friday will again be a holding space for anyone space for dialogue around racial trauma, police brutality, and other acts of violence. Some of you may be feeling overwhelmed with the daily news of continued acts of violence. I encourage each of you to reach out for help if needed: For students: UNC Counseling and Psychological Services (CAPS); 919-966-3658 – 24/7. For faculty and staff: UNC Employee Assistance Program (ComPsych); 877-314-5841
I also want to share with you this event, shared with me from a student, scheduled on Friday, April 23rd from 3-4:50pm: "Study, Organize, Abolish: A Cops Off Campus Research Workshop." I am aware the idea of defunding police and removing them from college campuses is controversial, just as the calls for removing police from our schools. However, we cannot overlook that many students on our campus have expressed negative interactions with the campus police. We need to be aware of and have an understanding of how some view campus police AND WHY. Click here to register: https://www.eventbrite.com/e/study-organize-abolish-a-cops-off-campus-workshop-tickets-147824841079
Resources for Addressing Racial Violence
The American School Counselor Association (ASCA) has cultivated a number of helpful resources for addressing racial violence:
Individual Meetings
If you would like to meet with me individually, please book an appointment.
Happy Earth Day!
EARTHDAY.ORG is honored that the Biden Administration has decided to convene a global climate summit on Earth Day 2021. Click here for environmental education resources: https://www.earthday.org/education-resource-library/.
As we prepare to engage in earth day activities, I urge you to reflect on environmental justice and environmental racism and how the work we do contributes to or fights against environmental justice and environmental racism.
Environmental Justice refers to those cultural norms and values, rules, regulations, behaviors, policies, and decisions to support sustainability, where all people can hold with confidence that their community and natural environment is safe and productive. Environmental Justice is realized when all people can realize their highest potential, without interruption by environmental racism or inequity. Environmental Justice is supported by decent paying and secure jobs; quality schools and recreation; decent housing and adequate health care; democratic decision-making; and finally, personal empowerment. A community of Environmental Justice is one in which both cultural and biological diversity are respected, and where there is equal access to institutions and ample resources to grow and prosper.
Environmental racism refers to the institutional rules, regulations, policies or government and/or corporate decisions that deliberately target certain communities for locally undesirable land uses and lax enforcement of zoning and environmental laws, resulting in communities being disproportionately exposed to toxic and hazardous waste based upon race. Environmental racism is caused by several factors, including intentional neglect, the alleged need for a receptacle for pollutants in urban areas, and a lack of institutional power and low land values of people of color. It is a well-documented fact that communities of color and low-income communities are disproportionately impacted by polluting industries (and very specifically, hazardous waste facilities) and lax regulation of these industries (https://greenaction.org/).