Nickelodeon tackles environmental racism

Please keep reading for events and announcements related to diversity, equity, and inclusion. Don't forget to send me items to include in future newsletters: DEI Newsletter Submissions
Announcements
PLEASE COMPLETE BY FRIDAY, APRIL 30TH!!! Managing Bias Training.
You should have received a personal email invitation directly from Everfi. This course is designed to address the experience of faculty and staff in the workplace. It uses interactive exercises and realistic scenarios to define explicit and implicit bias, identify multiple types of bias, and explain how biases can lead to unfair treatment in the workplace. In addition to providing a foundational understanding of bias, the course explores how bias occurs in everyday workplace decisions and attitudes and explains how the harmful effects of bias can impact the individual, the organization, and society-at-large.
Registration is open: National Conference on Race and Ethnicity (NCORE) – June 7th – 11th
Early bird deadline is April 30th! NCORE is the most comprehensive national forum on issues of race and ethnicity in American higher education
Click here for more information.
Instructors Teaching Undergraduate Courses in 2021-22
The IAAR invites faculty teaching undergraduate courses to apply to have their courses included in IAAR-SLATE's shared learning component in which courses designated as part of IAAR-SLATE will include activities in common that reflect the program's topical focus. Review of applications will begin the week of April 19, 2021 and continue until the available spaces have been filled. Questions may be addressed to Anna Agbe-Davies, Ph.D., Associate Professor of Anthropology, and Faculty Director of Teaching for IAAR-SLATE at agbe-davies@unc.edu.
Click here for more information and application: https://unc.az1.qualtrics.com/jfe/form/SV_8CaJV1TmakLJtJA
FOR AGES 21-26 – Avodah Jewish Service Corps
Applications are now open for the Avodah Jewish Service Corps, a year long program for individuals ages 21-26 to build a lifetime of leadership skills, an active Jewish community, a powerful professional network, and a more just America.
Spend a year serving for justice at a leading anti-poverty organization while living and learning at the crossroads of activism and Jewish life. As a member of the Jewish Services Corps, you will:
Build real-world expertise with critical, hands-on work experience. You'll be placed with one of Avodah's partner organizations in Chicago, New Orleans, New York, Washington, DC, or our newest city, San Diego. Through on-the-ground direct service work, you'll contribute meaningfully to our partners' work on crucial justice issues such as immigration, food insecurity, education, healthcare, criminal justice, and much more.
Develop activist chops and Jewish social justice insights. Avodah's trusted, innovative curriculum examines the causes and effects of domestic poverty, develops practical skills, and looks at justice work through a Jewish lens. Programming will deepen, contextualize, and nourish your day-to-day work while preparing you to stay in social and economic justice movements for the long haul.
Live and learn in the dynamic Avodah community. Home-cooked meals, late night conversations, and holiday celebrations make living communally in the bayit (house) memorable and meaningful. We have also introduced our first Jews of Color Bayit in NYC – learn more at https://avodah.net/who-we-are/jocbayit/.
Access activism, professional development, and Jewish opportunities for life. Over 1,200 social justice leaders across the country serve as active, engaged members of our alumni community. They'll help you with everything from apartment hunts to job references to holiday meals invites.
In addition to a year of professional and personal growth, Corps Members receive a monthly living stipend, health insurance, a travel allowance, and subsidized housing. The program will run August 2021- August 2022.
Avodah is committed to building a Service Corps that inclusively represents our diverse community. Sephardi Jews, Mizrahi Jews, Jews of Color, people of color, women, people with disabilities, immigrants, LGBT2QIA people, and people who come from poor or working class backgrounds are strongly encouraged to apply!
Are you the next Jewish Corps Member? Visit our website at avodah.net/serve, email apply@avodah.net to learn more, or nominate a friend. We are currently accepting applications on a rolling basis until all spots are filled – apply ASAP!
STUDENTS: John M. Belk Impact Fellowship – Accepting Applications
We are now accepting students' applications for our second cohort of future North Carolina Educational Justice Leaders. The John M. Belk Impact Fellowship was built on the belief that talent is universal, but opportunity is not. The John M. Belk Endowment and The Hunt Institute have teamed up with several nonprofit organizations to give current college students an opportunity to learn about the inner workings of organizations playing critical roles across North Carolina's education landscape. Click here for the Fellowship webpage which includes the online application: John M. Belk Impact Fellowship · The Hunt Institute (hunt-institute.org).
STUDENTS: Freedom School Summer Internship -Servant Leader Intern (SLI)
Servant Leader Intern Position Description
The Servant Leader Intern (SLI) serves as a classroom teacher in a Freedom School literacy based summer enrichment program. The SLI helps to serve breakfast and lunch, leads a literacy rich curriculum during the morning, and leads/chaperones activities or field trips in the afternoon. The Servant Leader Intern should be experienced in working with groups of children, responsible, energetic, able to think on his/her feet, a good leader and a strong role model.
The Freedom School Partners are looking for college students to serve as paid, summer interns for our Freedom School summer program in Charlotte, NC. We hire college students and recent college graduates from all majors and classifications. During the summer, children living in low-income communities are susceptible to falling two to three months behind in reading due to unengaged and unsupervised time. Our goal at Freedom School Partners is to help students grades K-8 gain and maintain reading ability through an engaging, and exciting six-week summer program led by college-aged interns. We not only work to transform children's lives, but we work to transform college students into advocates for children and help them develop skills that expand their resume and prepare them for future success. Please check out our website to learn more about the work of Freedom School Partners.
Please check out this video from our Careers webpage to get a good glimpse into what Freedom School looks like for our Servant Leader Interns during the summer and also two video links below to learn more. If you have any questions or comments please feel free to reach out to us at recruit@freedomschoolpartners.org. Additional videos to learn more: Freedom School Partners: Our Story , Freedom School Partners: Our Interns.
Upcoming Events
High School Journal hosting 'Otherwise Worlds' speaker series; first talk Tuesday, April 27th at 11:00am; May 5th at 2pm
The High School Journal, an academic journal managed by School of Education graduate students, is hosting a speaker series in conjunction with the journal's upcoming special issue on "otherwise worlds." The special issue will contain articles that challenge notions of "returning to normal" following a year of pandemic and examine ways communities brutalized by white supremacy have been fighting for new worlds for a long time. The talks are intended to spark conversation within the School community on how its work is tied to the journal's special issue theme.
Noor ul Sabah Ali, a social justice educator, will speak Tuesday at 11 a.m. on the topic "Critical Race Theory and Muslim Girls." Register for her talk here.
Jenna Cushing-Leubner, who writes about racial equity in English language teaching, will give a talk on May 5 at 2 p.m. entitled "Multilingual Youth of Color: Visions for a World they Deserve. Register for her talk here.
"I Shall Tell The Truth" – A FREE two part webinar series on the life of Moses Roper – Part 2: April 28th, 5-6:30pm
Moses Roper was born into slavery in Caswell County, North Carolina in 1815. After 19 attempts to escape, he was finally successful in his early twenties, and went on to become a best-selling author, orator, and international anti-slavery crusader. Yet, today, few know his name or the incredible story of his resistance to slavery. Join the Crafting Freedom Institute,, in collaboration with Carolina K-12, for a FREE two-part webinar series in which we elevate the story of this remarkable North Carolina-born freedom fighter out of obscurity. Click here to register for one or both sessions.
Headspace, Heart Space: Straight Talk about Navigating Race, Place and Complex Space – April 28th, 1pm.
Please join UNC-CH Campus Safety Commission for this courageous conversation around navigating race, featuring Dr. Ty-Ron Douglas (https://drtydouglas.com/), University of California, Berkeley. Register at https://go.unc.edu/CSC
Decolonizing Sociology – Dr. Ali Meghji, University of Cambridge, April 29th at 1:15pm
In this presentation, Ali Meghji will talk through some of the key themes from his recent book, Decolonizing Sociology. He will first situate sociology in its colonial development, detailing its emergence in the epistemic core of European empires. After critiquing how sociology continues to reproduce the colonial episteme, he will then turn to what a decolonial challenge to sociology would look like. In doing so, he will put forward a relational sociology which—as the Zapatistas put—seeks to practice an ethic of 'walking while asking questions.' He will finish with some practical thinking points for instigating a decolonial turn in sociology.
Click here to register: Zoom link: https://duke.zoom.us/j/97589514755?pwd=SHJxRnJpVnA2UnlIWU5QOXpyNWxvQT09
Meeting ID: 975 8951 4755 Password: stuarthall
UNC Latino/a Studies Program: A Conversation with Macarena Gómez-Barris – April 29th; 3:30pm
How can indigenous epistemologies inform approaches to environmental concerns? What are the relationships between art, ecology, perception and experience? How can we cuir queer politics?
Join the Latina/o Studies Program as we work through some of these questions in conversation with writer and theorist Dr. Macarena Gómez-Barris, the Founding Director of the Global South Center (GSC)–a research center that works at the intersection of social ecologies, art/politics, and decolonial methodologies. This conversation, which is open to the public, will center the importance of LatinX Environmentalisms in a time of social and ecological crisis. Dr. Gómez-Barris is the author of four books, Where Memory Dwells: Culture and State Violence in Chile (2009), The Extractive Zone: Social Ecologies and Decolonial Perspectives (2017), Beyond the Pink Tide: Art and Political Undercurrents in the Américas (2018), and Towards a Sociology of a Trace (2010, with Herman Gray). To attend: REGISTER HERE.
WSBC Racial Equity Series: Binkley Talks about Race, May 10th, 7 p.m.
The final talk in this Binkley Talks about Race series features Delores Bailey, the Executive Director of the non-profit EmPOWERment, Inc. The organization's mission is to empower" individuals and communities to achieve their destiny through community organizing, affordable housing, and grassroots economic development."
A lifelong resident of Chapel Hill, Delores still lives in her family home on Graham Street. Her family moved there in the 1970s, after they and more than 50 families, who lived in a community across the street from Barbee's Chapel Church, were disrupted as the area became overflow lands for Jordan Lake. Delores will talk about affordable housing from the perspective of an African American from Binkley's sister church, Barbee's Chapel. To attend: Register here.
Delores is the recipient of the 2021 Dr. Martin Luther King Jr. Community Service Award from the Chapel Hill-Carrboro NAACP, which honors those who "envision solutions to the many inequities in this world that we live in, while also having the courage to act and to persevere in the face of challenging circumstances.
For preparation: HIGHLY RECOMMENDED
(podcast) Delores Bailey tells the story of her youth in Chapel Hill, changes since then that have negatively impacted the Black community—and what it means to be community.
The House We Live in, an excellent film on the systemic nature of housing and other forms of discrimination. Vimeo.
In a hot market, NC reaches highest home price growth rate in almost 30 years, News & Observer, March 12, 2021
How the Federal Government Built White Suburbia
Federal housing policies didn't just deny opportunities to black residents. They subsidized and safeguarded whites-only neighborhoods. By Kriston Capps, September 2, 2015, Bloomberg
FOR MINORITIZED MASTERS AND DOCTORAL STUDENTS: VCU Holmes Scholar Professional Developmental Series, May 17th
The VCU Holmes Scholars will be holding their sixth professional development series event for FY20-21 on Meta-analysis: Introduction and tips. There is no cost for this event. Register here.
About the FY20-21 VCU Holmes Scholar PD Series.
Carolina Consortium on Human Development Speaker Series Spring 2021: "Culture & Developmental Science: Considering Context, Culture, and Intersectional Approaches"
The proseminar meetings will be on Monday afternoons from 2:00 – 3:15 PM. All talks will be held online via Zoom (https://fpgcdi.zoom.us/j/91078842280). Please click here for the spring schedule of speakers and topics: https://cchd.web.unc.edu/consortium/.
Critical Race Theory Summer Institute: June 3rd – 4th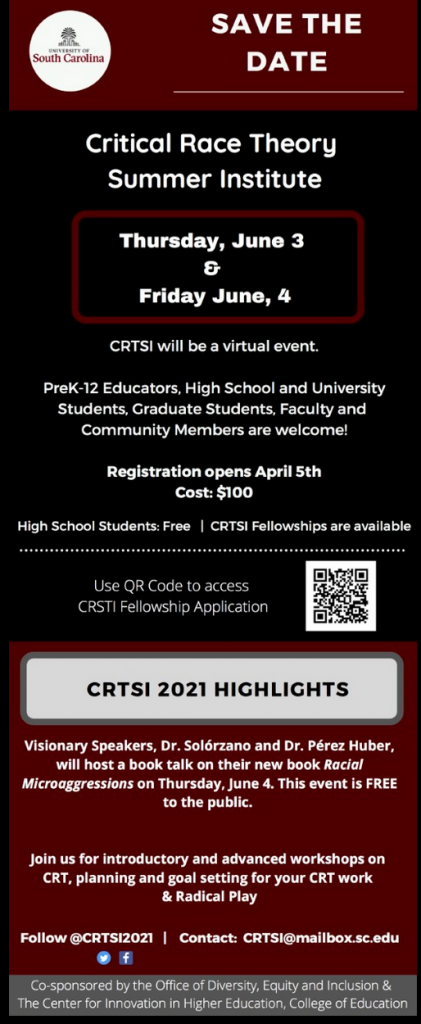 American University Summer Institute on Education Equity and Justice (SIEEJ) – June 28-30, 2021
Leveling the Playing Field: Intersecting Race and Disabilities
Keynote Speakers include Drs. Donna Ford, Bonnie St. John, Gloria Ladson-Billings and Shawn A Robinson.
Conference Hosts: Drs. Cheryl Holcomb-McCoy and Antonio Ellis
Sessions are designed to change both mindsets and practices. The overall goal of SIEEJ is to build a community of practice singularly focused on the strengths, challenges, and opportunities in the lives of young people of color and the communities in which they live. Please visit the conference website for more information on session speakers, moderators, and full descriptions. All sessions will be closed captioned. Full recordings of the sessions will be made available to registered attendees. Participants will be provided links to livestream all sessions in advance. We encourage you to engage with the sessions by using the hashtag #SIEEJthemoment.
Register: Bit.ly/ausieej21; Early Bird registration – $25; University Students -$10DEI Resources
From the School of Education's DEI Team
DEI Resources
This YouTube channel has over 90 DEI webinars primarily led by leaders of color with panelists from a variety of backgrounds.
Resources for Addressing Racial Violence
The American School Counselor Association (ASCA) has cultivated a number of helpful resources for addressing racial violence:
Click here to attend: https://zoom.us/j/98090153143
As we prepare for the Chauvin trial verdict, and continue to face acts of violence in our society, our DEI chat this Friday will again be a holding space for anyone space for dialogue around racial trauma, police brutality, and other acts of violence. Some of you may be feeling overwhelmed with the daily news of continued acts of violence. I encourage each of you to reach out for help if needed: For students: UNC Counseling and Psychological Services (CAPS); 919-966-3658 – 24/7. For faculty and staff: UNC Employee Assistance Program (ComPsych); 877-314-5841
I also want to share with you this event, shared with me from a student, scheduled on Friday, April 23rd from 3-4:50pm: "Study, Organize, Abolish: A Cops Off Campus Research Workshop." I am aware the idea of defunding police and removing them from college campuses is controversial, just as the calls for removing police from our schools. However, we cannot overlook that many students on our campus have expressed negative interactions with the campus police. We need to be aware of and have an understanding of how some view campus police AND WHY. Click here to register: https://www.eventbrite.com/e/study-organize-abolish-a-cops-off-campus-workshop-tickets-147824841079
DEI Chats – LAST ONE OF THE YEAR – Friday at 3p.m.
Click here to attend: https://zoom.us/j/98090153143
Individual Meetings
If you would like to meet with me individually, please book an appointment.
Nickelodeon Tackles Environmental Racism
In last week's newsletter, I discussed information related to environmental justice and environmental racism. Nickelodeon has since shared a video on Twitter explaining environmental racism to kids and have received a lot of backlash. Click here to see the video: Nickelodeon Talks to Kids About Environmental Racism Click here to read more about the backlash: Fox News: Parents Outraged Over Nickelodeon segment on Environmental Racism
I would be interested in hearing your thoughts on this topic – why are some opposed to exposing kids to issues around racism in our society? What is our role as educators, working in a school of education, to highlight and address issues of racism, and other isms, in our teaching, our research, our service, and in our own personal lives? Come join us this Friday in the DEI Chat to discuss. This is open for all – those who agree, disagree, and remain neutral.
In addition, as we end this academic year, I want to engage in a discussion with all faculty, staff, and students around their experiences with DEI programming this year – what you liked, didn't like, and what you would like to see moving forward. If you want your voice heard, please come to the table.