Please keep reading for events and announcements related to diversity, equity, and inclusion. Don't forget to send me items to include in future newsletters: DEI Newsletter Submissions
Announcements
PLEASE COMPLETE BY FRIDAY, APRIL 30TH!!!  Managing Bias Training.
You should have received a personal email invitation directly from Everfi. This course is designed to address the experience of faculty and staff in the workplace. It uses interactive exercises and realistic scenarios to define explicit and implicit bias, identify multiple types of bias, and explain how biases can lead to unfair treatment in the workplace. In addition to providing a foundational understanding of bias, the course explores how bias occurs in everyday workplace decisions and attitudes and explains how the harmful effects of bias can impact the individual, the organization, and society-at-large.
Instructors Teaching Undergraduate Courses in 2021-22
The IAAR invites faculty teaching undergraduate courses to apply to have their courses included in IAAR-SLATE's shared learning component in which courses designated as part of IAAR-SLATE will include activities in common that reflect the program's topical focus. Review of applications will begin the week of April 19, 2021 and continue until the available spaces have been filled. Questions may be addressed to Anna Agbe-Davies, Ph.D., Associate Professor of Anthropology, and Faculty Director of Teaching for IAAR-SLATE at agbe-davies@unc.edu.
Click here for more information and application: https://unc.az1.qualtrics.com/jfe/form/SV_8CaJV1TmakLJtJA
FOR AGES 21-26 – Avodah Jewish Service Corps
Applications are now open for the Avodah Jewish Service Corps, a year long program for individuals ages 21-26 to build a lifetime of leadership skills, an active Jewish community, a powerful professional network, and a more just America.
Spend a year serving for justice at a leading anti-poverty organization while living and learning at the crossroads of activism and Jewish life. As a member of the Jewish Services Corps, you will:
Build real-world expertise with critical, hands-on work experience. You'll be placed with one of Avodah's partner organizations in Chicago, New Orleans, New York, Washington, DC, or our newest city, San Diego. Through on-the-ground direct service work, you'll contribute meaningfully to our partners' work on crucial justice issues such as immigration, food insecurity, education, healthcare, criminal justice, and much more.
Develop activist chops and Jewish social justice insights. Avodah's trusted, innovative curriculum examines the causes and effects of domestic poverty, develops practical skills, and looks at justice work through a Jewish lens. Programming will deepen, contextualize, and nourish your day-to-day work while preparing you to stay in social and economic justice movements for the long haul.
Live and learn in the dynamic Avodah community. Home-cooked meals, late night conversations, and holiday celebrations make living communally in the bayit (house) memorable and meaningful. We have also introduced our first Jews of Color Bayit in NYC – learn more at https://avodah.net/who-we-are/jocbayit/.
Access activism, professional development, and Jewish opportunities for life. Over 1,200 social justice leaders across the country serve as active, engaged members of our alumni community. They'll help you with everything from apartment hunts to job references to holiday meals invites.
In addition to a year of professional and personal growth, Corps Members receive a monthly living stipend, health insurance, a travel allowance, and subsidized housing. The program will run August 2021- August 2022.
Avodah is committed to building a Service Corps that inclusively represents our diverse community. Sephardi Jews, Mizrahi Jews, Jews of Color, people of color, women, people with disabilities, immigrants, LGBT2QIA people, and people who come from poor or working class backgrounds are strongly encouraged to apply!
Are you the next Jewish Corps Member? Visit our website at avodah.net/serve, email apply@avodah.net to learn more, or nominate a friend. We are currently accepting applications on a rolling basis until all spots are filled – apply ASAP!
STUDENTS: John M. Belk Impact Fellowship – Accepting Applications
We are now accepting students' applications for our second cohort of future North Carolina Educational Justice Leaders. The John M. Belk Impact Fellowship was built on the belief that talent is universal, but opportunity is not. The John M. Belk Endowment and The Hunt Institute have teamed up with several nonprofit organizations to give current college students an opportunity to learn about the inner workings of organizations playing critical roles across North Carolina's education landscape. Click here for the Fellowship webpage which includes the online application: John M. Belk Impact Fellowship · The Hunt Institute (hunt-institute.org).
STUDENTS: Freedom School Summer Internship -Servant Leader Intern (SLI)
Servant Leader Intern Position Description
The Servant Leader Intern (SLI) serves as a classroom teacher in a Freedom School literacy based summer enrichment program. The SLI helps to serve breakfast and lunch, leads a literacy rich curriculum during the morning, and leads/chaperones activities or field trips in the afternoon. The Servant Leader Intern should be experienced in working with groups of children, responsible, energetic, able to think on his/her feet, a good leader and a strong role model.
The Freedom School Partners are looking for college students to serve as paid, summer interns for our Freedom School summer program in Charlotte, NC. We hire college students and recent college graduates from all majors and classifications. During the summer, children living in low-income communities are susceptible to falling two to three months behind in reading due to unengaged and unsupervised time. Our goal at Freedom School Partners is to help students grades K-8 gain and maintain reading ability through an engaging, and exciting six-week summer program led by college-aged interns. We not only work to transform children's lives, but we work to transform college students into advocates for children and help them develop skills that expand their resume and prepare them for future success. Please check out our website to learn more about the work of Freedom School Partners.
Please check out this video from our Careers webpage to get a good glimpse into what Freedom School looks like for our Servant Leader Interns during the summer and also two video links below to learn more. If you have any questions or comments please feel free to reach out to us at recruit@freedomschoolpartners.org. Additional videos to learn more: Freedom School Partners: Our Story , Freedom School Partners: Our Interns.
Upcoming Events
UNC Program for Public Discourse – Debating the Minimum Wage – April 19th, 5pm
The UNC Program for Public Discourse hosts its first-ever debate and the inaugural event in our Debating Public Policy Series: Debating the Minimum Wage. Join us as two UNC professors argue opposing views on raising the federal minimum wage to $15. Dr. Lucca Flabbi of the UNC Department of Economics argues in favor. Dr. Paige Ouimet of UNC Kenan-Flagler Business School argues against. The debate is moderated by Prof. Kevin Marinelli, executive director of the UNC Program for Public Discourse. Click here to register.
"I Shall Tell The Truth" – A FREE two part webinar series on the life of Moses Roper – April 21st and April 28th, 5-6:30pm
Moses Roper was born into slavery in Caswell County, North Carolina in 1815. After 19 attempts to escape, he was finally successful in his early twenties, and went on to become a best-selling author, orator, and international anti-slavery crusader. Yet, today, few know his name or the incredible story of his resistance to slavery. Join the Crafting Freedom Institute,, in collaboration with Carolina K-12, for a FREE two-part webinar series in which we elevate the story of this remarkable North Carolina-born freedom fighter out of obscurity. Click here to register for one or both sessions.
Carolina Consortium on Human Development Speaker Series Spring 2021: "Culture & Developmental Science: Considering Context, Culture, and Intersectional Approaches"
The proseminar meetings will be on Monday afternoons from 2:00 – 3:15 PM. All talks will be held online via Zoom (https://fpgcdi.zoom.us/j/91078842280). Please click here for the spring schedule of speakers and topics: https://cchd.web.unc.edu/consortium/.
DOC Speaks (Dental and Oral Health Community Scholars) Speaker Series
DOCSpeaks is an iteration of the Dental and Oral health Community Scholars (DOCS) Scholars Program featuring TEDTalk length cogent talks that intersect with cultural competence and healthcare. All sessions will feature 20-minute talks followed by a 20-minute Q and A. If you have questions, contact: Dr. Sylvia A. Frazier- Bowers, Assistant Dean for Inclusive Excellence and Equity, UNC-CH Adams School of Dentistry (saf@ad.unc.edu). Please click here for schedule and access to past talks: https://spark.adobe.com/page/OUkWA54TBBeoe/#erika-wilson-jd—associate-professor-of-law-thomas-willis-lambeth-distinguished-chair-in-public-policy-unc-school-of-law
Critical Race Theory Summer Institute: June 3rd – 4th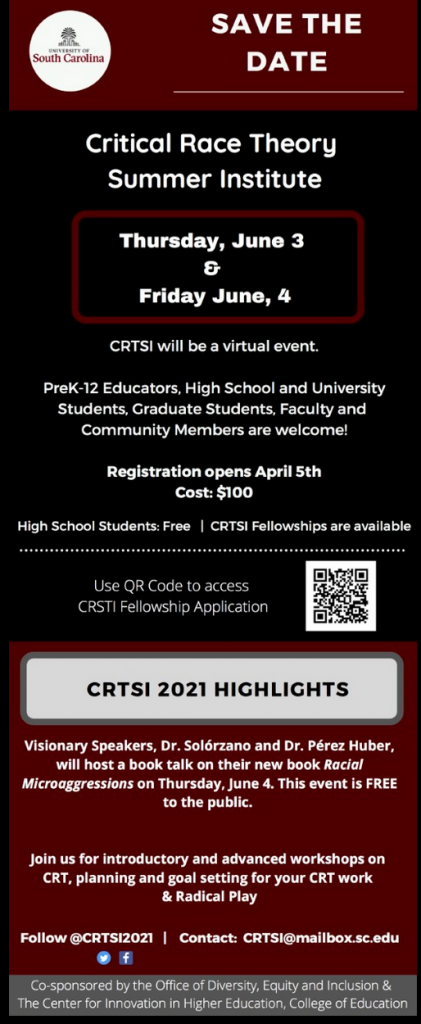 American University Summer Institute on Education Equity and Justice (SIEEJ) – June 28-30, 2021
Leveling the Playing Field: Intersecting Race and Disabilities
Keynote Speakers include Drs. Donna Ford, Bonnie St. John, Gloria Ladson-Billings and Shawn A Robinson.
Conference Hosts: Drs. Cheryl Holcomb-McCoy and Antonio Ellis
Sessions are designed to change both mindsets and practices. The overall goal of SIEEJ is to build a community of practice singularly focused on the strengths, challenges, and opportunities in the lives of young people of color and the communities in which they live. Please visit the conference website for more information on session speakers, moderators, and full descriptions. All sessions will be closed captioned. Full recordings of the sessions will be made available to registered attendees. Participants will be provided links to livestream all sessions in advance. We encourage you to engage with the sessions by using the hashtag #SIEEJthemoment.

Register: Bit.ly/ausieej21; Early Bird registration – $25; University Students -$10DEI Resources
From the School of Education's DEI Team
DEI Resources
GlobalMindED 2020 – This GlobalMindED YouTube channel has over 90 DEI webinars primarily led by leaders of color with panelists from a variety of backgrounds.
DEI Chats – Fridays at 3p.m. – PLEASE COME AND JOIN US THIS FRIDAY!!
DEI Book Club: April 9th; 12:30p.m.
We will be discussing Jesmyn Ward's The Fire This Time. Email Dana Riger to sign up. All are welcome!!!
Individual Meetings
If you would like to meet with me individually, please book an appointment.
Ramadan Mubarak to all celebrating!!
To all our Peabody family celebrating, wishing you peace and blessings during this holy month.  I'm sure Ramadan will yet again be very different due to the pandemic, but I do hope that this time is full of hope, reflection, and meaning for you.