Please keep reading for events and announcements related to diversity, equity, and inclusion. Don't forget to send me items to include in future newsletters: DEI Newsletter Submissions
ncIMPACT on PBS North Carolina at 7:30 p.m. – March Schedule
Teaching Fellow Seminar Series
March 17th, 2020, 6:30-7:30PM ~ Dr. Cathy Kea, Professor of Special Education, North Carolina A&T University, College of Education ~Culturally Responsive Teaching
Each year the UNC North Carolina Teaching Fellows plan a seminar series surrounding a theme chosen the year before derived from our four pillars that ground the enrichment experiences within the UNC NC Teaching Fellows program. The four pillars include Pedagogical Content Knowledge, Equity and Diversity, Experiential Education, and Educator Leadership and guide the development of the UNC Teaching Fellows Community of Learners. The theme for the 2020-2021 academic year is Diversity in Schools: Cultural, Ethnic, and Racial. See below for the remaining lectures within the series.
If interested in attending, please RSVP by 5PM on the day of the event to Tammy Siler, tsiler1@email.unc.edu.
Carolina Health Informatics Program Rachial Equity Series – March 23rd at 3p.m.
Part 2: Bringing a Racial Equity Focus to Health Informatics: Workshop
March 23, 2021 at 3PM EST
Participants will select and attend one breakout room presentation, engage in small-group discussion, and reflect on strategies to incorporate a racial equity focus into their own work. Participants will come away from the workshop with a specific plan for how to bring racial equity into an ongoing or future research project.
Attendance at the March 9 panel is not required for participation in the workshop.
Register for the workshop here.
Virtual Black Communities Conference – March 15 – March 24
The event will feature book talks, film screenings and talk backs, IAAR-SLATE student discussions and eight roundtables with topics such as: "Are Anti-racist schools possible?," "Black Economic Freedom," and "Arts and Music of Racial Reckoning." Come hear Michael Twitty talk about his new book on "Rice: A Savor of the South", or Kyle Legall discuss his film "Cardiff 1919: Riots Redrawn" on historic race riots in Wales. Or, attend a "Collab Session," to discuss and connect with other attendees around our roundtable topics. The complete and rich conference agenda is available online. To register go to this link.
UNC Carolina Seminar – Impacts of COVID-19, Racism and Inequity on Child Development – March 26th – 12:30 – 2pm
Dr. Thurston Domina, SoE, and Dr. Sabrina Zadrozny, FPG, will engage in interdisciplinary conversations and the development of a research-policy agenda regarding the dual impact of COVID-19 and systemic racism and inequity on children's developmental trajectories in the early years. Zoom Registration Link: https://go.unc.edu/covid19rain
Josefina Niggli Latinx Speaker Series – March 26th, 4-5pm
Join Dr. María J. Durán for a talk entitled "Ofrendas for an Afro-Mexican American Altar: The Poetry of Ariana Brown"
Dr. Durán is the Florence Levy Kay Fellow in U.S. Latinx Cultural Studies at Brandeis University.
This Zoom event requires registration. To register for this event, click this link:
https://wcu.zoom.us/meeting/register/tZwodOurqDwuG9wQraaC6yIhrKgXcP_ONkw4
Natalie Scenters-Zapico – Reading and Q&A: March 26, 2021, 3:30PM
The UNC Latina/o Studies Program presents Natalie Scenters-Zapico, who will perform work from her books Lima :: Limón (2019) and The Verging Cities (2015). She will discuss themes of machismo and marianismo, gender violence, and love and desire set in her hometowns of Ciudad Juárez, Chihuahua, and El Paso, Texas. Register at the following link to attend this virtual event: https://lsp.unc.edu/event/natalie-scenters-zapico/
working to extend anti-racist education (weare) workshop – March 31st and April 7th
I am very excited to share with you that our very own alum Dr. Ronda Taylor Bullock will be conducting a two-part antiracist education workshop for all students, faculty, and staff of the SoE. Ronda Taylor Bullock, Ph.D. is originally from Goldston, NC. In 2018, she earned her doctorate at UNC-Chapel Hill School of Education in the Policy, Leadership, and School Improvement Program. Her research interests are critical race theory, whiteness studies, white children's racial identity construction, and anti-racism. Prior to entering her doctoral program, Dr. Taylor Bullock taught English for almost ten years at Hillside High School in Durham, NC. She is the co-founder and executive director of we are. We Are is a non-profit organization that provides anti-racism training for children, families, and educators. 

Please see emails from Patti Spillane for registration information.
Carolina Consortium on Human Development Speaker Series Spring 2021: "Culture & Developmental Science: Considering Context, Culture, and Intersectional Approaches"
The proseminar meetings will be on Monday afternoons from 2:00 – 3:15 PM. All talks will be held online via Zoom (https://fpgcdi.zoom.us/j/91078842280).
See the full spring schedule of speakers and topics here.
DOC Speaks (Dental and Oral Health Community Scholars) Speaker Series
DOCSpeaks is an iteration of the Dental and Oral health Community Scholars (DOCS) Scholars Program featuring TEDTalk length cogent talks that intersect with cultural competence and healthcare. All sessions will feature 20-minute talks followed by a 20-minute Q and A. If you have questions, contact: Dr. Sylvia A. Frazier- Bowers, Assistant Dean for Inclusive Excellence and Equity, UNC-CH Adams School of Dentistry (saf@ad.unc.edu). See the schedule and access past talks here.
Critical Race Theory Summer Institute: June 3rd – 4th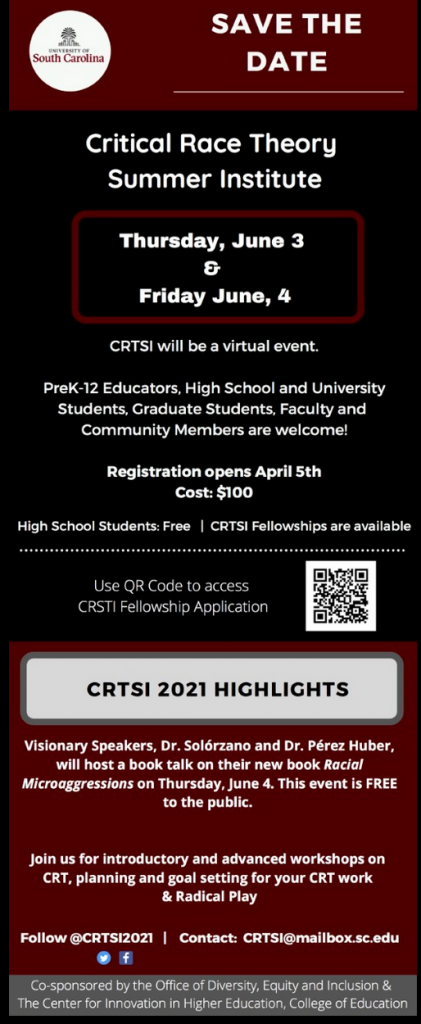 DEI Resources
GlobalMindED 2020 – This GlobalMindED YouTube channel has over 90 DEI webinars primarily led by leaders of color with panelists from a variety of backgrounds.
DEI Chats; March Schedule: Digital Accessibility with Gia Branciforte
DEI Book Club: March 19th; 12:30p.m.
We will be discussing Jesmyn Ward's The Fire This Time. Email Dana Riger to sign up. All are welcome!!!
Individual Meetings
If you would like to meet with me individually, please book an appointment.
The work begins with us
It's disheartening to have to write out against another act of violence, especially as many are still hurting from the hateful act that occurred last week towards our AAPI community. Last week, many of us were grappling with what can we do, and I'm sure the events in Colorado compounds those feelings of frustration, anger, hopelessness, apathy… but over the last few days, I've come to realize that there is much that we can do. We, in education, play a pivotal role in shaping the minds of our future generations– those of us who teach in educator prep programs, those of us who are more theoretical and conceptual, those of us who are instrumental in teaching and reaching our undergraduate program, and all of you who support us in doing this work – we all have a role. Education is key. What can we do? We need to begin in our own house. Start with addressing what education should be, as bell hooks writes in Teaching to Transgress: Education as the Practice of Freedom: "Despite the contemporary focus on multiculturalism in our society, particularly in education, there is not nearly enough practical discussion on ways classroom settings can be transformed so that the learning experience is inclusive. If the effort to respect and honor the social reality and experiences of groups in this society who are nonwhite is to be reflected in a pedagogical process, then as teachers-on all levels, from elementary to university settings-we must acknowledge that our styles of teaching may need to change." "The classroom remains the most radical space of possibility in the academy. For years it has been a place where education has been undermined by teachers and students alike who seek to use it as a platform for opportunistic concerns rather than as a place to learn….Urging all of us to open our minds and hearts so that we can know beyond the boundaries of what is acceptable, so that we can think and rethink, so that we can create new visions, I celebrate teaching that enables transgressions—a movement against and beyond boundaries. It is that movement which makes education the practice of freedom." Of course there is so much more that can be done, but the work must include honest discussions on what and how we educate our youth.