Zoom: Using Pre-Assigned Meeting Breakout Rooms
Overview
As a meeting host, you can pre-assign your meeting participants to breakout rooms when scheduling a meeting. This can be useful if you already know how you want to split up your participants during a meeting.
The information on this page describes specific steps that are required for the pre-assignment process to work with UNC Zoom accounts. For complete information on using this feature within Zoom see Pre-Assigning Participants to Breakout Rooms.
Requirements
Preparing the CSV File for Import
The Zoom CSV spreadsheet template that is used for setting up breakout rooms contains two columns: pre-assign room name and email address. You will open this file in Excel, enter the information you would like to use for your meeting.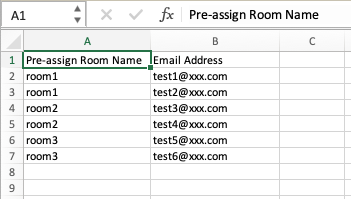 Pre-Assign Room (Column A)- This is the name of the breakout rooms that will be used during the meeting. Room names in this column cannot have any spaces.
Email Address (Column B)- Email addresses for all UNC meeting participants must be entered in the ONYEN@email.unc.edu format.
After entering your information in the CSV spreadsheet, you will need to save it to your computer before uploading it to the Zoom Meeting settings page. Make sure to save the file in .csv (comma-separated value) format.
Signing in to the Zoom App (Client) on Your Device
For meetings where pre-assigned breakout rooms will be used, all meeting hosts and participants must sign in to their UNC Zoom account on the Zoom App (Client) on the device (computer, phone, tablet) being used to connect to the meeting. This must be done prior to joining the meeting or clicking on the "Join Meeting" link.
See Zoom: Signing In to Your UNC Zoom Account in the Zoom App on Your Device for information on how to sign in to the app on your device or verify that you are already signed in.
Other Considerations
When uploading a spreadsheet to a re-occurring Zoom meeting the changes have to be applied to all occurrences. You cannot have separate breakout rooms for individual meeting occurrences. If the pre-assigned groups will change between occurrences, you will need to create and import a new spreadsheet prior to each meeting occurrence.
Training
Zoom Pre-Assigned Breakout Rooms- How to Make It Work
Offered 12/3/2020